Results tagged ' Scott Rolen '
Major League Baseball has given us some of the most awesome nicknames in history: The Great Bambino, Charlie Hustle, and The Freak, just to name a few. Unfortunately, Cincinnati seems to have a dearth of nicknames. CoCo and the Cuban Missile are the only ones that really come to mind. But, in our years as Reds fans, we've come up with a few nicknames that we'd love to hear our favorite players answer to.
5. Scott "Scooter" Rolen
We here at Rockin' Redlegs absolutely adore Scott Rolen. He's, in our opinion, our best veteran and an excellent third baseman. One of the things we love most about Scott is that he's got a certain look about him – one that can only be described as childlike. Frankly – and we mean this in the best possible way – Scott looks like a little kid. He's so cute, that for some reason, we want to make him sound a little kid. We definitely see a new nickname in Scott's future.

We love you, Scooter
4. Ryan "The Coyote" Hanigan
Ryan Hanigan is a great catcher who has had a hell of a start to this 2011 season. The pitchers trust him and he's always hustling. Ryan's attitude, as well as his look behind the plate evokes the image of a coyote on the prowl, constantly looking for his next strike. His intensity reminds us of a natural predator, and we think that The Coyote is an accurate descriptor of Hanigan's style.
3. Jonny Gomes: The Chuck Norris of Cincinnati
Jonny Gomes is as tough as they come. Whether he's beating guys up in an on-the-field brawl, making incredible catches in Left Field, mackin' on his gumbacco, or just showing off his amazing hair, Jonny Gomes can do anything. It's been said that he can cut down a mountain with his bare hands, and we're pretty sure that some of his hits have actually flown by the window of the International Space Station. In fact, Jonny Gomes doesn't hit home runs – the balls run away from his bat.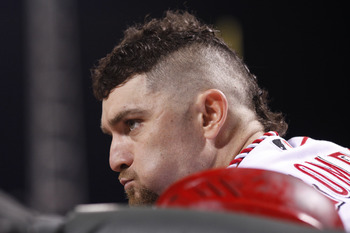 Don't look him directly in the eyes or you'll go blind.
2. Joey "The Bat" Votto
Being Italian comes with a great responsibility – deciding what your nickname would be if you ever got involved with the Mafia. Joey "The Bat" Votto sounds like someone who would not only be an MVP slugger, but someone who would also break your legs with a Louisville Slugger if you owed him money.

Joey "The Bat" Votto: Cincinnati's Wiseguy
1. Paul "Goose" Janish
You know how sometimes, you want to give someone a nickname for no particular reason? That is how we feel about Paul "Goose" Janish. Maybe it's the way he seems to take flight when a grounder comes at him, or maybe it's the way his stubble makes half of his face change color, like a goose. Perhaps it's because his constant game heroics remind us of Goose from Top Gun. Who knows why, but Goose seems like the perfect nickname for Paul and we have officially begun campaign Goose.

His nickname is Goose. Accept it and move on.