Results tagged ' Ryan Hanigan '
Tuesday was not an awesome day for the Reds. The Reds fell in an 8-6 loss to the New York Mets, and they lost a teammate in Jonny Gomes who got traded to the Washington Nationals. Despite things not being so great for the Reds, it was an absolutely amazing day for the Rockin' Redlegs crew. One of the most wonderful ladies on the planet, Lisa Braun, hooked us up royally and helped to provide us with our most incredible ballpark experience to date.
We arrived at the ballpark around 4:30 and met Lisa at the team offices who proceeded to give us the grand tour of the cathedral we've frequented many times in our lives. This time, however, she showed us all of the behind-the-scenes places we didn't even know existed. We toured the team offices, the suites, and the concourse before entering the belly of the beast, so to speak. Lisa showed us the entrance to the Reds' clubhouse, but we weren't allowed to go inside because we are girls. I guess they were afraid that we wouldn't be able to contain ourselves at the prospect of seeing Joey Votto's booty.
No Girls Allowed!
From there, Lisa brought us through the Umpire's Suite/Star Dressing Room, through the visitors' dugout, and onto the field. It was our first time ever stepping foot on a Major League baseball field and, boy, was it cool. We stood there and watched our favorite players taking practice swings. We also took about a thousand pictures of Dusty Baker's rear end. On second thought, maybe it wasn't such a bad idea to keep the Rockin' Redlegs ladies out of the clubhouse.
One of many.
After meeting Jim Kelch, we took quite a few pics of some of the greatest baseball players of our time at batting practice.
Lisa also thought it would be important to introduce us to a really nice guy named Nick. He asked us a few questions about who we are and what we do, before revealing his true identity (and offering a few death threats.)  Ladies and Gentlemen, Nick is the man behind the red fur. Yes, we met the face behind one of Rockin' Redlegs (previously) most loathed creatures – Gapper. Nick is actually a really superb human being – he's funny, nice, and extremely personable. After assuring him that our dislike for Gapper was certainly tongue-in-cheek and had nothing to do with him personally, I think we might have won him over, and vice versa. More to come on Gapper.
Our buddy Jamie Ramsey of Better Off Red came down to say hey (on his birthday!) and it was really good to see him again. It's always a good time with Jamie.
Out of the corner of our eyes, we spotted a familiar face. We spotted him from afar, waved, and it was like not a moment had passed. After flirting with a debbie -
Brandon stopped on over to say hey. We caught up with him for a bit and told him that we planned on taking him out to dinner very soon. He joked around with us, and it felt like old times.
Reunited and it feels so good!
Jamie also brought over one of our favorite (former) Reds, Jonny Gomes.
Jonny's last official act as a Red – hangin' with the Rockin' Redlegs ladies! Good luck in Washington, Jonny! We'll miss you a ton!
Just like that, batting practice was over and the Mets took the field. Lisa offered to take us to the Reds Hall of Fame (where we had never been before) and we relished in reliving all of the greatest moments of Reds history.
Here's Angie with the Great Eight.
After the Hall of Fame, it was almost time for the game. After many thank-you's, we parted ways with our absolutely fabulous hostess and headed to our seats in the Budweiser Thirst Row, from where we watched an awesome game (even though they lost.) We were so close to my boy, Jay Bruce, we could almost smell him. Angie and I were wondering if Jay could hear us talking from where we were sitting – hence the name of this post. Guys, Jay did not touch his butt, so I guess he couldn't hear us.
Come on, do it Jay!
Around the fifth inning, the Rockin' Redlegs crew were treated to a special guest. Yes, it took a minute to feel comfortable with him, but I think our boy Gapper deserves a redemption. Actually, Gapper and I are on more-than-a-first-name-basis (if you know what I mean.)
He's actually not bad once you get to know him!
Ultimately, the Reds lost to the Mets, but the memories and experiences we had that day with Lisa, Jamie, Jonny, Brandon, Jim, and of course, Gapper will be with us for a long time and we couldn't be happier that we got to have this opportunity. We now see Great American Ballpark, the people behind it, and the players in a different light and we are so fortunate to have gotten to participate in such an awesome day.
As always, GO REDS!
Some very happy bloggers!
Major League Baseball has given us some of the most awesome nicknames in history: The Great Bambino, Charlie Hustle, and The Freak, just to name a few. Unfortunately, Cincinnati seems to have a dearth of nicknames. CoCo and the Cuban Missile are the only ones that really come to mind. But, in our years as Reds fans, we've come up with a few nicknames that we'd love to hear our favorite players answer to.
5. Scott "Scooter" Rolen
We here at Rockin' Redlegs absolutely adore Scott Rolen. He's, in our opinion, our best veteran and an excellent third baseman. One of the things we love most about Scott is that he's got a certain look about him – one that can only be described as childlike. Frankly – and we mean this in the best possible way – Scott looks like a little kid. He's so cute, that for some reason, we want to make him sound a little kid. We definitely see a new nickname in Scott's future.

We love you, Scooter
4. Ryan "The Coyote" Hanigan
Ryan Hanigan is a great catcher who has had a hell of a start to this 2011 season. The pitchers trust him and he's always hustling. Ryan's attitude, as well as his look behind the plate evokes the image of a coyote on the prowl, constantly looking for his next strike. His intensity reminds us of a natural predator, and we think that The Coyote is an accurate descriptor of Hanigan's style.
3. Jonny Gomes: The Chuck Norris of Cincinnati
Jonny Gomes is as tough as they come. Whether he's beating guys up in an on-the-field brawl, making incredible catches in Left Field, mackin' on his gumbacco, or just showing off his amazing hair, Jonny Gomes can do anything. It's been said that he can cut down a mountain with his bare hands, and we're pretty sure that some of his hits have actually flown by the window of the International Space Station. In fact, Jonny Gomes doesn't hit home runs – the balls run away from his bat.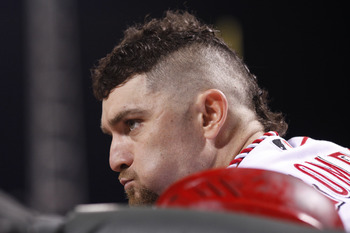 Don't look him directly in the eyes or you'll go blind.
2. Joey "The Bat" Votto
Being Italian comes with a great responsibility – deciding what your nickname would be if you ever got involved with the Mafia. Joey "The Bat" Votto sounds like someone who would not only be an MVP slugger, but someone who would also break your legs with a Louisville Slugger if you owed him money.

Joey "The Bat" Votto: Cincinnati's Wiseguy
1. Paul "Goose" Janish
You know how sometimes, you want to give someone a nickname for no particular reason? That is how we feel about Paul "Goose" Janish. Maybe it's the way he seems to take flight when a grounder comes at him, or maybe it's the way his stubble makes half of his face change color, like a goose. Perhaps it's because his constant game heroics remind us of Goose from Top Gun. Who knows why, but Goose seems like the perfect nickname for Paul and we have officially begun campaign Goose.

His nickname is Goose. Accept it and move on.