Results tagged ' Aroldis Chapman '
Dontrelle Willis is an absolutely fantastic pitcher, and we at Rockin' Redlegs love everything about him. The question about Dontrelle is "Goodness gracious, who did he piss off?"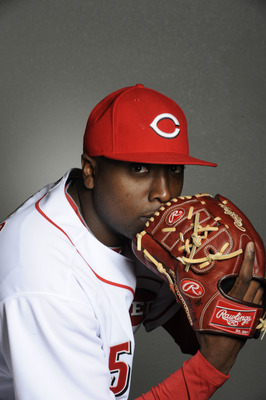 "The glove hides the fact that I'm dying inside."
Today was D-Train's seventh start as a Red and, once again, he was unable to pick up a win. He pitches tremendously every time he hits the mound, but for some reason unbeknownst to any mortal, no matter how well he pitches, he cannot get those elusive W's. It's actually really sad, because not only does he pitch like a boss, but he also has one of the best bats we've seen from a pitcher in a long time. Willis is one of those guys who tries to help himself out however he can, and it would be nice if the other players were able to help him out too.
Today, we saw the resurgence of Aroldis Crapman (not to be confused with Aroldis Chapman, the Cuban Red who has an incredible amount of velocity and control and pitches perfect innings on a regular basis). Had it not been for Crapman, Dontrelle might have been able to pick up his first win and bring pride and joy to Cincinnati. Oh well, tomorrow is another day.
"Que?"
Tune into the rubber match tomorrow and cheer on our Redlegs as they try to take two of three from the fading Pittsburgh Pirates.
As always, GO REDS!
Apparently, along with being the record-holder for the fastest pitch, Aroldis Chapman is also a salesman. Here's the video of Chapman's Cinco de Mayo Pepto Bismol commercial. We're just still trying to figure out what is inside the pinata.