Closers, Countdowns, and Cancer ):
Hey gang, sorry to have been quiet for the past week or so. Last week, I was graced with the most vicious stomach bug known to man, and I'm still not entirely positive I don't actually have some sort of parasite. Doesn't matter though, because it is one week to Opening Day, and there's a whole lot to talk about!
First and foremost, Mark Sheldon reported yesterday that our beloved third base coach, Mark Berry, has been diagnosed with cancer in his tonsil and lymph node. According to Sheldon, Mark is optimistic he'll beat this disease and is still deciding whether to undergo surgery or radiation. Our thoughts and prayers go out to Mark and his family – we're sure that his positive attitude and modern medicine will ensure that he's cancer-free soon. Read Mark Sheldon's original post here.
Now, onto the happiest news I've received since Brandon Phillips told me he was taking me to Chicago – AROLDIS CHAPMAN WILL BE CLOSING THIS SEASON!!! This was revealed sometime late last week when I was certainly drifting in and out of consciousness, clutching a Powerade and a trash can. Last year, Chapman put up stellar numbers as our closer, and when I heard that there was a chance that he'd be in the starting rotation, I was devastated. The question of Chapman as a starter or a closer has been buzzing around Reds fans and the organization for years, and I thought it was very clearly solved last season when he converted 38 out of 43 save opportunities. In my opinion (and this is all still very hotly contested), if Chapman entered the starting rotation and pitched an average of 6ish innings every five days, not only would we end up having to shut him down by late August, but he would only last in our organization for a few years. With all the effort, strength, and power that Chapman puts into each pitch, paired with his youthful inexperience, his arm would be wrecked prematurely. BUT IGNORE ALL THAT BECAUSE IT'S NO LONGER A CONCERN! It's obvious to me that the closer role is the right role for Chapman, and I'd be happy to grab a beer with you and discuss it at greater length if you have an opposing opinion. That, or I'm always down for a good, old-fashioned back-and-forth in the comments.
Finally, IT'S TIME FOR THE COUNTDOWN! We have seven days left until Opening Day, and I'd like to post some kind of lovely picture for each day of the countdown. For our first day of the countdown, here is a picture of Ryan Hanigan and Todd Frazier embracing.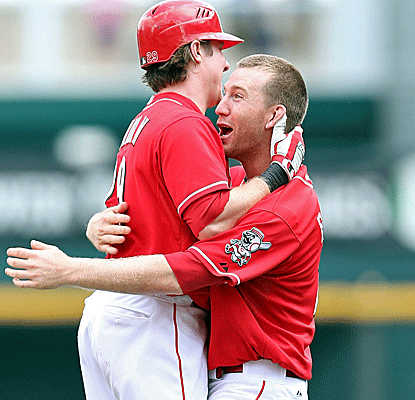 Have a great Monday, and GO REDS!!