Happy Father's Day!
In honor of all the amazing dads out there, Rockin' Redlegs wanted to do a tribute to all the great fathers in the Cincinnati Reds organization!

The Reds' skipper is always seen hanging out with his son, Darren. Any dad that lets his son run around the dugout with Major League Baseball players is pretty darn awesome.

Jonny Gomes has two little ones at home, and he loves them enough to get their names tattooed on his body for all to see. Zoe Paris and Colt Johnson are two lucky little children!

Scott Rolen, our All-Star 3rd baseman, is also an all-star dad. Here (in this creepy creepy stalker picture) you can see Scott taking his daughter as his date to the Reds Uncut event at the Aronoff.

Brandon Phillips wouldn't be the player he is today without his dad, James, encouraging him to do his best. Thanks to James for helping to give us one of the greatest baseball players of our time!
We once stated on Rockin' Redlegs that Drew Stubbs' dad is a cheetah. Here's proof that he's actually a human. Here's Drew and his dad, Rick!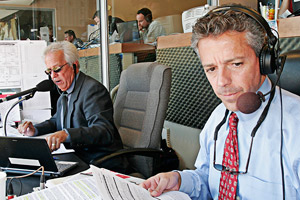 Marty and Thom Brennaman are one of Cincinnati's greatest father-son duos, and the way they work together to bring us Cincinnati Reds baseball every night is something Cincinnati fans always appreciate!
Our hearts especially go out to Joey Votto today, who lost his dad in 2008. We're sure this is a tough day for him, but hopefully Joey is able to take this day to remember all the good times he had with his dad.
So, Happy Father's Day to all the dads out there!
Let's get a W today, and as always, GO REDS!