Top 5: On the Field Facial Hair
It is no doubt that the Reds have some of the greatest players on Earth. Even more true, we've got some pretty studly men, and if there is one way to measure the badassness of a man, it is his awesome facial hair. Here are our Top 5 picks for best facial hair.
5. Joey Votto's Stubble
Every now and again, Joey will let his beard go and forgo shaving for a couple of days. While it's pretty generally agreed-upon that the MVP is one of the most attractive players on the team, we think he looks even better when he's become a little lax with shaving and lets some stubble move in. Think about ditching the razor more often, Joey!
4. Sam LeCure's Devil 'Stache
After losing two of our starting pitchers – Johnny Cueto and Homer Bailey – to the DL, Sam LeCure really stepped up and came through as the fifth starter in the rotation. While Sam LeCure looks great clean-shaven, we've recently been exposed to this 'stache-style, which slightly reminds us of the type of facial hair a cartoon devil would have. Not many people can pull off this look, so props to Sam for giving this team a new and exciting facial hair pattern to observe, as well as a starter who could really give the other guys a run for their money when the rotation is reevaluated.
3. B-Philly's Tuft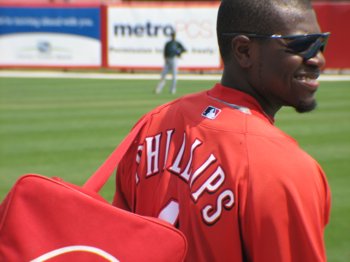 Our second baseman, Brandon Phillips, has always had a certain swagger and we're almost certain this has a lot to do with his awesome chinbeard. Rarely does a tiny tuft of hair on a man's chin ever look this good.
2. Jonny Gomes' two-toned goatee
Jonny Gomes is, without argument, the most badass player on the roster. He's got the mohawk, multiple visible tats, and an unmistakable presence at the plate. His gorgeous goatee only adds to his reputation, but Jonny's facial hair is special. In what can only be described as genetic awesomeness, his goatee is a different color than his hair. That's right – Jonny Gomes is so badass, the pigments in his body actually separated in an attempt to escape that icy stare of his.
1. Miller's Manchu
While Corky Miller is not currently on the 25-man roster, he always comes through when the team needs him. As our brother once described him, "He looks like a scary biker who donates to charities once a month." His fu manchu is one of the most spectacular things on this Earth to look at, and once you see it, it is hard to break the hold the mustache has on your gaze. In fact, "mustache" does not even do Corky's style justice. If anyone can come up with a single word to capture the artful glory and wonder contained in this man's facial hair, let us know.